Before I go to bed I sometims take my camera, put it on a tripod and do some lightpaintings with my little pocket flashlight. It's very easy cause you need only two tools:
1x Camera
1x Pocket Flashlight
Set the exposure time of your camera as long as you need time to draw. In my case I used 30seconds. Then shine directly into the lense and paint blindly in the air.You will be surprised how good it works sometime.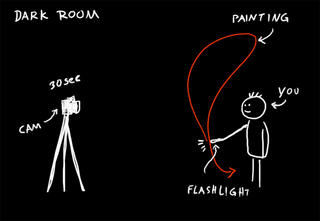 This is one of the paintings I did today. You should give it a try, it's really fun! Time to go to bed now... (_ _ )zZZ